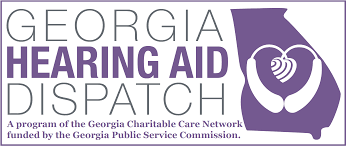 ATTENTION PATIENTS
The Georgia Charitable Care Network is a 501(c)(3) non-profit, non-governmental organization that provides hearing services with dignity and respect to uninsured, low-income people in Georgia. While this program's funding is primarily supported by the Public Service Commission, the hearing aid package is not free. You will have a copayment.
ATTENTION PROVIDERS
If you are an audiologist, or know of one who might be interested in participating in the Hearing Aid Dispatch Program, more info can be found HERE.
Due to the demand for services, the current estimated time to process your application is 6-7 weeks. If you are unable or unwilling to provide the requested documentation, your application will not be approved. If complete documentation is not received within 3 month of initial submission, your application will be considered abandoned, and you will have to begin the application process over.
If you are an adult interested in applying for hearing aid services, please download the application below.
If you are a parent or legal guardian of a child in need of hearing aids, please download the application below.
Should you have any questions, please call 1 (888) 551-1231 or email the Hearing Aid Dispatch Director, Shirley Jones Cooper at scooper@charitablecarenetwork.org
© GEORGIA HEARING AID DISPATCH
A Program of the Georgia Charitable Care Network Funded by the Georgia Public Service Commission
EMAIL: hearing@charitablecarenetwork.org
PHONE: 1 (888) 551-1231